Here at PrintSafe we provide a range of batch code printers for for printing high quality batch numbers on consumer packaged goods. As the UK distributor for KBA-Metronic GmbH we offer high quality German-built equipment backed by UK-wide service and support.
Durable, German-Engineered Batch Code Printers
alphaJET IP65 rated continuous inkjets are ideal for printing batch codes on packaging such as cartons, sleeves, bottles, jars, cans, bags and wrappers
The compact, low-cost alphaJET mondo integrates easily into packaging machines or on your conveyor
Specialist machines are available for coloured (pigmented) inks, food grade inks or ultra high speed printing
Thermal inkjet and thermal transfer printers offer a high resolution option for printing batch codes, bar codes, 2D data matrix codes and detailed product information
Offline Coding Systems give you a high-speed alternative to hand-coding or labelling  your sleeves, folding cartons, crash lock cartons and pouches
---
 alphaJET mondo – Low-Cost, Low-Odour Inkjet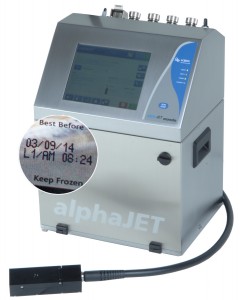 The low-cost alphaJET mondo inkjet is our most popular printer for batch and date coding applications. You can integrate it into your production line or packaging equipment or use it with the udaFORMAXX offline coding system for high-speed coding of product sleeves and cartons.
Entry-level inkjet coder (black ink)
IP65 rated as standard
Prints up to 5 lines
Picture-based touchscreen
Long service intervals
User profiles and password protection for management control
Noticeably lower odour than many other makes of inkjet
Read more about the alphaJET mondo >
---
udaFORMAXX – High-Speed Sleeve and Carton Coding
If you're currently hand coding or using labels, an offline coding system could increase throughput and save labour cost.  It's also a useful alternative to codingon the production line if print delivery is a problem. Depending on the size and shape of your cartons or sleeves, you can code anywhere between 200 and 600 packs per minute.
Easy to adjust for a wide range of packaging types and sizes
Code multiple product lines on a single machine
Accurate print positioning
Apply date/batch codes and promotional labels in the same operation
Integrate with inkjet, thermal transfer, thermal inkjet or hot foil printer
Add a label applicator for even greater cost savings
Low maintenance, simple operation
Best-in-class, modern design
Watch Video
These short videos show the udaFORMAXX being used to print and label a variety of sleeves and cartons. You'll see how it can be used with different printer options and with both printer and label applicator.
---
Need Something Specific?
Please call us on 01962 761761 and we'll be happy to talk you through the different options available. We provide printers for most standard and specialist batch coding requirements.
---
Request a Demo
Complete the short form below to request a video demo, or onsite demo – there's absolutely no obligation.  If you'd rather speak to someone straightaway, please call us on 01962 761761.