Batch Code Printers for Consumer Packaged Goods and Product Identification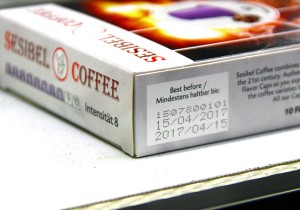 PrintSafe supports customers throughout the UK and Ireland with high quality coding equipment and after-sales services. With a wide range of coding technologies available, we can help you select the most appropriate batch code printer for your product, print requirement and production process.
You can choose to rent or buy. Lease purchase options are also available. If you would like advice on which option would be most suitable, please contact our machinery sales team on 01962 761761.
We would be very happy to provide print samples or to arrange a demo. In the meantime, please take a look at our  PRODUCT PAGE to see the full range of batch code printers that we supply.
---
Continuous inkjet printers for non-contact batch code printing
Continuous inkjets offer high-speed, non-contact printing for a whole range of different substrates. We supply alphaJET continuous inkjet printers which are manufactured in Germany by KBA-Metronic GmbH.  Their simple menu system and colour touchscreen make them very easy to use.
If you are looking for a simple batch code printer for consumer packaged goods, the alphaJET mondo prints up to 5 lines in black ink. If you need additional functionality, including the option for coloured or specialist inks, we would normally recommend the alphaJET into.
As well as alphanumeric text, you can also use continuous inkjet to print simple logos and bar codes. The alphaJET pico gives you the ability to print in a small space and prints excellent 2D codes or dot codes. If you are looking for speed, the alphaJET tempo runs at a line speed of up to 10m per second.
---
Thermal inkjet coders for high resolution batch codes and bar codes
Thermal inkjet printing, with its drop-on-demand system, is another option for non-contact printing on packaging and other substrates. With a thermal inkjet printer, you can also print high quality bar codes, 2D codes and simple logos.
The option to stitch together up to four separate print heads, gives you the flexibility to print a large amount of detailed information. The betaJET verso thermal inkjet delivers a high quality print with up to 600 x 600 dpi.
You can use a thermal inkjet printer on your production line to print batch codes and other variable data at up to 130m/minute. The printer can also be  fitted to our sleeve and carton feeders for coding flat-from cartons ahead of production.
---
Hot foil printers for simple, low maintenance printing
Hot foil is a very low maintenance option if you are looking for a simple batch code printer with excellent resolution. It can be used for printing, with foil,  or debossing where the mark is made with the type block only.
Hot foil can be used on flat-form cartons on a sleeve and carton feeder. It can be used to print directly onto a range of substrates including plastic and glass. You can choose from a whole rainbow of ribbon colours.
Our modern hpdSYSTEM vario date code printer fits into most standard hot foil frames for easy integration into packaging or labelling machinery. It relies on contact with the substrate so will not be suitable for uneven substrates. It also needs factory air to operate.
---
Thermal transfer printers for batch codes on flexible packaging
Thermal transfer is another option for batch code printing. With this technology, you can print extremely high quality batch codes, date codes and bar codes as well as detailed ingredients information. Thermal transfer is typically used on flexible packaging – often mounted within a vertical form fill seal (VFFS) machine.
---
Request a Demo
Please get in touch via the form below to request a demo. Alternatively , you can send an email to sales@printsafe.co.uk or call us on 01962 2761761.