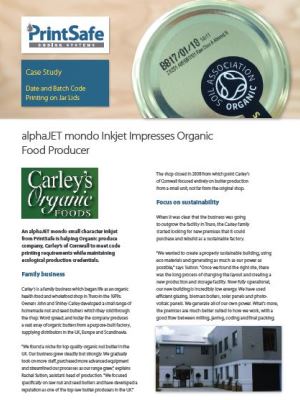 It is very intuitive. Everyone is trained to use the printer and can enter data ready for that day's production. Changing the ink is very easy; simply take the bottle out and push a new one down and in.
Carley's of Cornwall is a family business that began life as an organic health food and wholefood shop in Truro in the 1970s. Today, the company produces a vast array of organic nut and seed butters from a purpose-built factory, supplying distributors in the UK, Europe and Scandinavia.
The company is using an alphaJET mondo CIJ, from PrintSafe, for printing date and batch code on jar lids. The code includes best-before date, Julian date, main ingredient code, product code and initials of the person who jarred the product.
Carley's is using an alphaJET mondo continuous inkjet printer (CIJ), with MEK-free ink. You can find out more about the alphaJET mondo here.
For more information, call our sales team on 01962 761761, or you can send an email to sales@printsafe.co.uk