Published30th October, 2017
The Tobacco Products Directive requirement for batch number printing on e-liquid bottles or cartons is a key reason why we had so many visits to our modest 'Batch Numbering and Carton Labelling' booth at the Vaper Expo UK at the NEC this weekend.
With the requirement to print a batch number on the 'smallest individual packaging', company owners and production managers were keen to see how they could use a high-speed, non-contact inkjet printer to put a code on the cap, collar or bottle itself. We were also demonstrating how a carton feeding and labelling or printing system can save costs and shorten the packaging supply chain.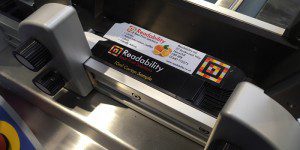 Thank you to Advanced Labelling Systems who supplied the label applicator head integrated on our nifty carton feeding system. Thank you also to Readability Print Solutions who supplied their lovely 10ml bottle cartons for us to use.
With the carton feeder you can code or label around 200 cartons per minute, giving you plenty of options for printing a simple batch number, printing product details or applying a pre-printed label. With the ability to do this in-house and in small batches, you can really benefit from the extra flexibility as well as short turnaround times.