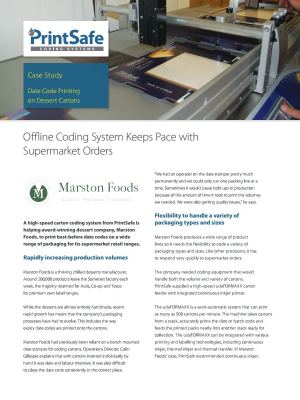 With the udaFORMAXX semi-automatic system, we can code on average 250 cartons per minute which means we are always ahead of the game
Read how chilled desserts producer, Marston Foods, is using an offline coding system to print date codes on around 250 cartons per hour.
Around 200,000 desserts leave the Somerset factory each week, destined for premium supermarket retail ranges. While the desserts are almost entirely handmade, customer demand and rapid growth meant that the company's packaging processes had to evolve.
Marston Foods purchased a udaFORMAXX offline coding system from PrintSafe to print date codes on a wide range of dessert cartons and sleeves for around 30 different product lines.
Marston Foods is using a udaFORMAXX feeding system with an alphaJET continuous inkjet printer. You can find out more about the udaFORMAXX here.
For more information, call our sales team on 01962 761761.