Published1st May, 2015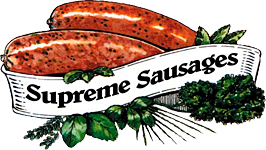 Supreme Sausages is a small, family run business that supplies high quality sausages and gourmet burgers through trade fairs, events and its online delivery service.
The company has rented an offline sleeve feeder with hot foil coder for printing date codes on its sausage sleeves. Previously applying stickers by hand, Supreme Sausages can now print clear date codes directly on to its newly designed sleeves at speeds of around 150 per minute.
Founder, Paul Garnish had looked at purchasing a date coding system, but with production quantities varying according to the events season, he chose to dip a toe in the water with a rental system before committing the capital budget.
"I just wanted to say thank you very much for your help and guidance. The first batch was manufactured, labelled and dated yesterday. All went well."
Find out more about our date code machinery rental service here
You can read more about Supreme Sausages at www.supremesausages.co.uk.