Published11th November, 2014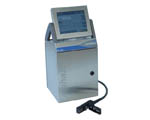 A global tobacco company has recently integrated an alphaJET pico into one of its packaging systems. A long-standing PrintSafe customer with a number of alphaJET continuous inkjets at its UK site, the company  is now using the pico to print a high resolution DotCode onto cartons.
The alphaJET pico has a 42 micron nozzle that prints tiny codes (0.7 – 10mm) at high resolution and at speeds of up to 695m per minute. The pico is also now available with pigmented white ink for printing on darker substrates. See previous post.