Print variable data on folding cartons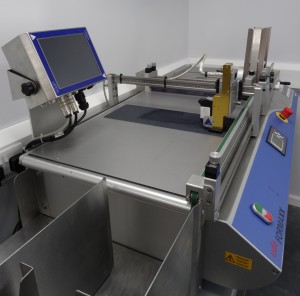 If you are putting your e-liquid bottles in cartons, you may need a method to print variable data on the carton itself. With a standalone carton feeding system you can print information on around 200 cartons per minute. It is ideal for batch code printing on the base of 10 ml e-liquid bottle cartons.
You can also apply printed or print-and-apply labels. This can save you cost, allowing you to put product-specific information on pre-printed cartons.
Standalone carton feeding system
Code or label around 200 cartons per minute
Use for e-liquid carton labelling and variable data printing
Print batch codes accurately in the same place each time
Use with label applicator to apply product and ingredient labels
High-speed printing and labelling
This short video shows how the machine feeds cartons for printing or labeling. This example shows how the carton is transported  by a narrow belt. We also supply a carton feeder that uses a conveyor-style belt, which can be used if you need to print or label right up to the edge of the pack.
The machine can be run by just one operator. It separates the cartons from a stack (gripping them tightly along one edge) and feeds them past the printer or label applicator. In fact, there is plenty of space to have both a printer and labeller should you want to apply labels and print a batch code in one pass.
Typical throughput is around 200 cartons per minute.  This will depend on your printing and labelling requirements. We would be very happy to test print some cartons for you to give you an accurate speed and print sample. You can call us on 01962 761761 or complete the form below.
---
Request a Print Sample