Published1st November, 2014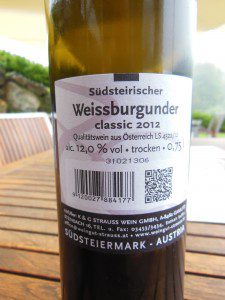 An investment in a KBA-Metronic alphaJET into inkjet printer has enabled high-quality Austrian wine producer, Weingut Strauss, to print clear, high-adhesion traceability codes onto glass bottles in a wet production environment.
 The Strauss wine estate can be found in the Gamlitzberg region in the heart of Southern Styria, in Austria. The vineyards sit on south-facing slopes that boast optimum soil properties for growing the highest quality grape varieties. A thriving family business, the highly regarded 'Strauss label' has been handed down through generations and is now managed by brothers Karl and Gustave Strauss. Karl takes care of company logistic and marketing while Gustave is responsible for the vineyards and winery.
With quality assurance and traceability legislation requiring unique batch codes to be printed onto every bottle leaving production, the brothers turned to KBA-Metronic for an inkjet printer that they could rely on for a permanent print at high speed. An alphaJET into printer was installed to print batch codes onto the curved bottles.
Bottling and labelling is carried out at high-speed. With the ability to print up to five lines at speeds of 2,400 characters per second, the alphaJET into can more than keep up with the pace. Another benefit of continuous inkjet technology (CIJ) is the fact that printing does not rely on contact with the substrate. This means that batch codes can be applied to the curved underside of the bottle where they are clearly legible but do not affect the brand quality that is vitally important to the Strauss name and reputation.
Reliable printing for reliable quality control
KBA-Metronic has pioneered industrial coding and marking technology for over 40 years, developing products that can be relied on for their ease-of-use and practicality.
The alphaJET into has enabled the Strauss winery to print the production date and the shift in which the bottle was filled onto all of its bottles. The ink dries immediately and completely, ensuring that production can continue at pace with no risk of the code smearing or washing off.
With this unique identification, the Austrian vineyard's managers can see at a glance when a bottle was filled and which batch it comes from. Further possibilities include printing corks and providing information about product origin.
Designed for ease-of-use
With bottling lines running at high speed, the individual components need to work together seamlessly to minimize costly downtime. With the alphaJET into CIJ, the Strauss winery can rely on a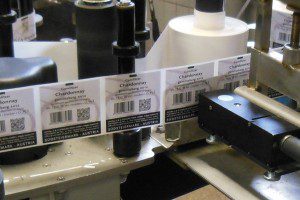 low-maintenance, versatile machine that easily handles high-speed production.
Built in Germany, the alphaJET inkjet range has all of the hallmarks of modern, high quality German design and engineering. A focus on efficiency is also evident in remarkably low solvent consumption and the low impact on consumables. For example, a filter change is only required after 4,000 hours of use and the pump runs reliably for at least 10,000 hours.
High-availability was a key factor at the design stage of the alphaJET into. Its automatic nozzle closure minimizes startup time and integrated ink jet inspection ensures consistently high print quality.
Design considerations also extend to ease of use. The 10.4" icon-driven touchscreen overcomes any language barriers to make message setup and changeover extremely quick. As well as providing clear status indicators, the alphaJET into's software lets operators see a print preview, preventing print errors and costly rework.
Ink bottles can be replaced at any time during print operation, reducing downtime and the associated costs.
Future-proof investment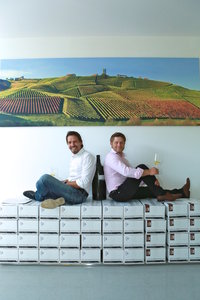 With its long service life, low consumption and 24 month warranty, the alphaJET into keeps running costs to a minimum and delivers a fast return on investment.
Before installing the alphaJET into, the Strauss winery was only able to apply labels and had no means of printing additional information. Now, with reliable batch coding in place, winery director Gustav Strauss is turning his attention to other possibilities. He says: "For the future, we are considering printing our logo onto other products and will use an inkjet printer from KBA-Metronic to achieve this."