Choose from a range of IP65 industrial inkjet printers that are simple to use and easy to maintain. Message creation and selection is very easy using the picture-based touchscreen control. Standard and specialist inks cater for a huge range of printing requirements.
PrintSafe is the UK supplier of KBA-Metronic alphaJET industrial inkjet printers. The alphaJET range is characterised by excellent build quality, IP65 rating and extremely easy operation. Choose from entry-level printers for simple date and batch code printing or high-speed, pigmented and other specialist industrial inkjet printers.
You might also be interested in the udaFORMAXX high-speed standalone coding system for printing date codes on flat form sleeves and cartons.
---
alphaJET mondo Entry-Level Industrial Inkjet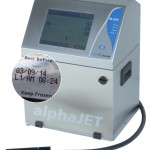 The alphaJET mondo is the perfect continuous inkjet printer (CIJ) for batch number and date printing. Its simple design means that it is easy to install, easy to use and easy on your budget.
– IP65 rating
– Picture-based touchscreen
– Long service intervals
– Low odour with solvent recovery system
Find out more about the alphaJET mondo >
---
alphaJET tempo High-Speed Industrial Inkjet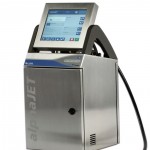 The alphaJET tempo CIJ offers high-speed printing for both FMCG and industrial applications. It prints up to 11 m/second with up to 4 lines of print.
– IP65 rating
-High-speed inkjet coder
– 600m/min
– High-adhesion print
Find out more about the alphaJET tempo >
---
 alphaJET pico Industrial Inkjet for Extra-Small Print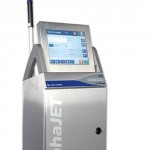 The alphaJET pico CIJ prints tiny fonts, bar codes and 2D data matrix codes with excellent readability. It can be used with black and white pigmented inks.
– IP65 rating
– Prints up to 5 lines
– 42 µm nozzle
– Available with white pigmented ink
Find out more about the alphaJET pico >
---

Get a Quick Quote
Please complete the form below, including details of what you need to print and on what substrate. We'll call or email you with a 'quick quote'.