Published10th September, 2015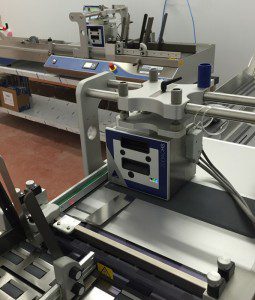 Here's a picture of two udaFORMAXX sleeve feeders with ICE Zodiac thermal transfer printers installed for a new customer last week. These complete feeding and coding systems will be used for printing batch, date and location information on food sleeves and pouches.
Why Code Offline?
We talk a lot about the reasons for using an offline coding system, rather than coding inline as part of main production. In many instances, online coding is more efficient and the desired option, but sometimes product specifics, production volumes or budget mean that offline coding is a valid alternative.
Some of customers code all of their products offline. Many of them code mostly online but use an  offline system as a backup, for extra capacity or for specific product lines.
Coding with Thermal Transfer (TTO)
In this instance, our customer opted for  two sleeve and carton feeders with thermal transfer coders (thermal transfer overprinters) so that they had the option to change between ribbon colours for different pack designs. Another factor was the print quality.
In this case, the customer is printing date, batch and product origin. Thermal transfer printers are also used for printing bar codes, detailed product information and even images at high resolution.
Along with thermal inkjet printing, it is a great option for printing product-specific information onto generic packaging to cut printing costs and rationalise stock
If you would like more information about thermal transfer for offline coding speak to PrintSafe today