Published8th January, 2018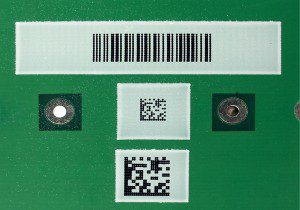 With most manufactured products needing some kind of unique or batch identification, there are a number of ways to achieve this according to your substrate, your production environment and the amount of data that you need to include.
For simple data and batch codes on food or FMCG packaging, a couple of lines of alphanumeric, human readable text do the job perfectly. This would normally be printed during the production process by a variable data printer. More detailed product information, including the country of manufacture, unique manufacturer ID and product category can be stored as a numeric code in a pre-printed linear or 1D barcode.
For smaller items, such as product components, a 2D data matrix code can store a larger number of alphanumeric characters (around 2000) in a small space. Used in the aerospace, electronics and automotive industries, you would typically use these codes to store manufacturer ID, part number and a unique serial number.  2D codes are also used by our customers in the pharmaceutical/medical sector for unique product identification.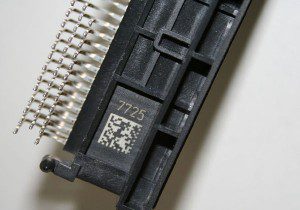 Part marking is possible with a small character continuous inkjet printer. There are a number of printers in the alphaJET range, capable of printing a high-quality 2D code. This can be achieved with black ink directly onto the part itself, with black ink on a pre-printed white area, or with coloured inks directly on a range of different substrate colours.
When it comes to critical 2D code printing for parts and components, the alphaJET into and alphaJET evo are both high-specification inkjets will give you the print quality and adhesion you need.  The code in the image below was printed with an alphaJET evo – you can see how the individual pixels form the code itself.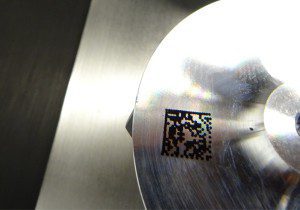 For even smaller 2D codes in tight print areas, the alphaJET pico with its 42 µm nozzlep rints extremely clearly at a print height as small as 0.7mm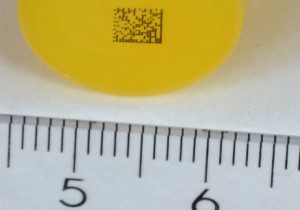 We also have customers that use an inkjet with UV readable ink to print a 2D code on a medical device container. This prints a code that is invisible unless under UV light. By doing this they can ensure that each product is marked with the correct identification information that is not visible to the consumer and does not detract from the packaging.
For can find out more about the alphaJET  continuous inkjet range here. We are always very happy to provide test print samples if you would like to evaluate a 2D data matrix code on your product.