Published30th June, 2016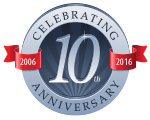 This year, PrintSafe is celebrating 10 years of supplying and supporting KBA-Metronic coding equipment.
PrintSafe was founded in 2006 to look after KBA-Metronic GmbH customers in the UK and Ireland. Since then, the company has gone from strength to strength, continuing to support existing customers and supplying coding and marking equipment to new customers across many different industries and a multitude of applications.
PrintSafe Managing Director, Neil Turner says: "I am delighted to be celebrating PrintSafe's tenth anniversary. We are proud to have built a strong business on the quality and reliability of KBA-Metronic coding equipment alongside the high level of service that we provide. Over the last 10 years, we have seen some exciting developments in the KBA-Metronic product range and we look forward to the next 10 years."