Published20th April, 2015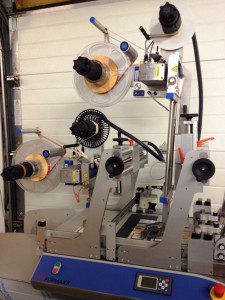 A udaFORMAXX from PrintSafe has been installed at a major ready meal producer. Fitted with not one, but two label applicators, it is being used to apply promotional flash labels and print date codes on sleeves for more than 30 different product lines.
It is a great example of the offline feeding machine's flexibility and cost-saving benefits. With two label applicators, promotional stickers can be applied to the top and side of unglued sleeves in just one pass. The system can also be used to apply two different labels to a pre-glued sleeve.
With the addition of an inkjet printer, the udaFORMAXX can also be used to print date codes in the same operation. This can be achieved at speeds of 240–500 sleeves per minute.
PrintSafe director Neil Turner says:  "The udaFORMAXX sleeve feeder is an incredibly versatile machine that offers genuine cost saving benefits to any company that is labelling or coding sleeves and cartons. We speak to lots of companies that are forced to apply promotional labels by hand because it is too difficult to achieve on their main production lines. The udaFORMAXX gives them a high-speed alternative that removes significant operator costs."
Watch  a short video clip