Published26th February, 2018

 "We had been using a hand sticker-gun to put the date codes on the base of the pots, but there was a risk of these coming off and a pot reaching the shelf without a date code."
Food manufacturer, Bakedin produces premium baking kits and mixes at its facility in Hampshire. It sells these through farm shops, food festivals, online retailers, supermarkets and a nationally recognised subscription service.
The company uses an alphaJET mondo date code printer to put a batch number and date code on the base of its 'single pot' products.
From kitchen table to dedicated production facility
Managing Director, Joseph Munns, founded Bakedin just 5 years ago, starting out from his kitchen table. Today, the fast-growing company operates out of a dedicated production facility, supplying 25 different product lines through hundreds of stockists.
Bakedin currently manufactures for 40 hours per week across 4 days. Because the company focuses on the gifting market, it sees a significant production spike in the run up to Christmas. Managing Director, Joseph Munns says: "We do about two thirds of our turnover in the last quarter of the year. As well as our classic products, we will produce seasonal mixes and high-end gift boxes such as our 'Gin & Tonic Cupcake Kit'."
Printing date codes on pots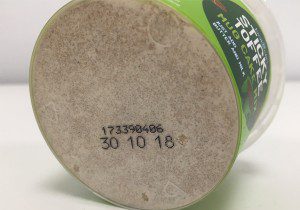 Current lines include tempting treats such as Choc Mallow Melt Cookie Kit, Belgian Chocolate Mug Brownie Mix and Sticky Toffee Mug Cake Mix. While the majority of products are supplied in sachets in premium cartons, customers can also buy single pots of brownie, cookie or cake mix.
It is for these single pots, that Bakedin uses the alphaJET mondo CIJ. Joseph Munns explains: "We had been using a hand sticker-gun to put the date codes on the base of the pots, but there was a risk of these coming off and a pot reaching the shelf without a date code."
He adds, "We like to work with local suppliers as much as possible. It really appealed to us having PrintSafe  just 20 minutes down the road. They supplied us with an inkjet printer on a short section of conveyor. We use this to print a 2-line date and batch on the base of the pots. We can also adjust the setup very easily to print on our filled cartons."
Straightforward and easy to use
The alphaJET mondo is the entry-level continuous inkjet printer in the alphaJET range. It prints up to 5 lines of alphanumeric text in black ink. The printers are manufactured in Germany by the Koenig & Bauer Group's specialist coding equipment division. They are supplied in the UK and Ireland by PrintSafe.
Continuous inkjet is a non-contact printing method that is suited to use on a range of different substrates. The ink dries almost immediately, making it ideal for printing onto the polypropylene pots. The icon-based touchscreen menu makes the alphaJET mondo very easy for operators to use.
Joseph Munns says: "PrintSafe's installation engineer was able to set the printer up for us very quickly. He spent time with the whole team, providing training on how to create and select messages. He also showed us the simple start-up and shut-down routines to use at the beginning and end of each run." He adds: "It is really very easy. The process has been painless, particularly compared to some of the other machinery that we have here."
You can read more about the alphaJET mondo inkjet coder here.
If you have something that you need to code, we would be very happy to provide some print samples for you. You can get in touch through sales@printsafe.co.uk or you can complete our sample request form and we will give you a call.