Rent or Buy a Date Code Printer
We support customers throughout the UK and Ireland with high quality coding equipment and aftersales services.
We can help you select the most appropriate date code printer for your product, print requirement and production process. You can choose to rent or buy. Lease purchase options are also available.
Click here to view our full range of date code printers
Continuous Inkjet Printers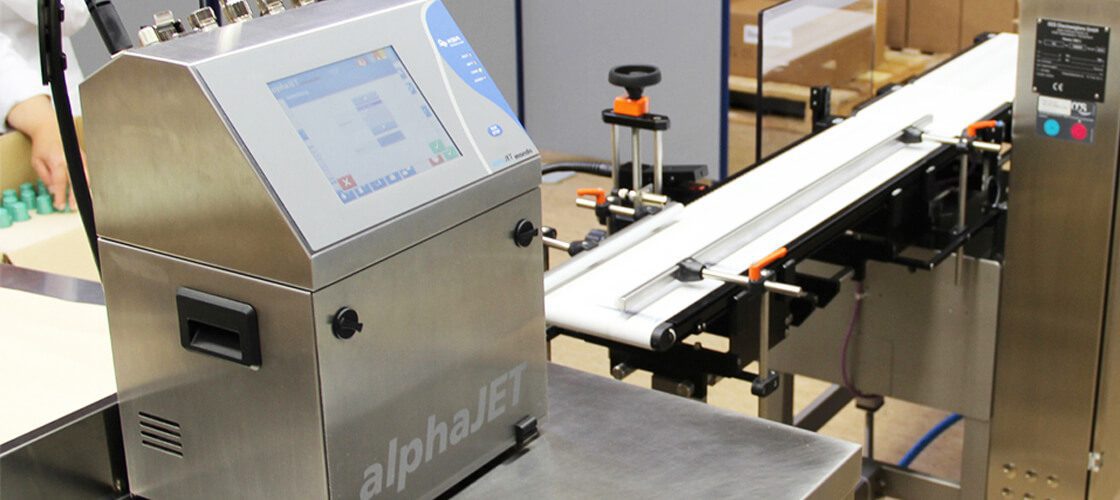 We supply alphaJET continuous inkjet printers which are manufactured in Germany by Koenig & Bauer Coding GmbH.  Their simple menu system and colour touchscreen make them very easy to use. Continuous inkjets offer high-speed, non-contact printing for a whole range of different substrates.
If you are looking for a simple date code printer, the alphaJET mondo prints up to 5 lines in black ink. If you are need additional functionality, including the option for coloured or specialist inks, we would normally recommend the alphaJET into.
Sleeve & Carton Feeder for Date Code Printing on Sleeves, Cartons and Pouches
A sleeve and carton feeder (you can also feed pouches or other flat-form packs) gives you a way to print date codes quickly and accurately away from main production. Some of the biggest food manufacturing companies in the UK, use our carton feeding machines for accurate date-coding on cardboard sleeves for ready meal or other prepared food packs. Equally, carton feeders give you a way to automate date coding if you don't yet have other automation in place.
Throughput depends on pack size but you can expect to be able to code around 150-200 packs per minute, with reliably accurate print placement.
udaFORMAXX sleeve and carton feeders are designed to accommodate more than one printer, printer and vision system or even a label applicator. Some manufacturers use the standalone machines for printing a date code and applying a label in one pass.
Suggested Products for Date Code Printing